Tajlyn's Upcoming Shows, Along With Photos, Videos & Fliers From Past Shows Listed Below!
Saturday, 03/04/2017: Bockfest 5K ... Cincinnati, OH ... Tajlyn Performing at Gilbert & Court Corner by the Greyhound Stations & Casino ... 10:00AM ... Come Out To Cheer & Dance With Us! It's FREE!
Saturday, 03/04/2017: The 86 Coffee Bar & Concert Venue... 2820 Vine St., Cincinnati, OH ... All Ages ... Doors at 8:00PM ... $8 ... Tajlyn, Austin Rath & Mitch Winsett
*** 2017 UPDATE *** Wednesday, 03/01/2017:
Tajlyn is still waiting to see if she will be going to the the next round of America's Got Talent - the first round on T.V.. Tajlyn auditioned via video submission and went in person to the Cleveland, OH auditions on December 10th, 2016. The audition and documentary videos from that adventure are below. We will let you know when we hear from America's Got Talent.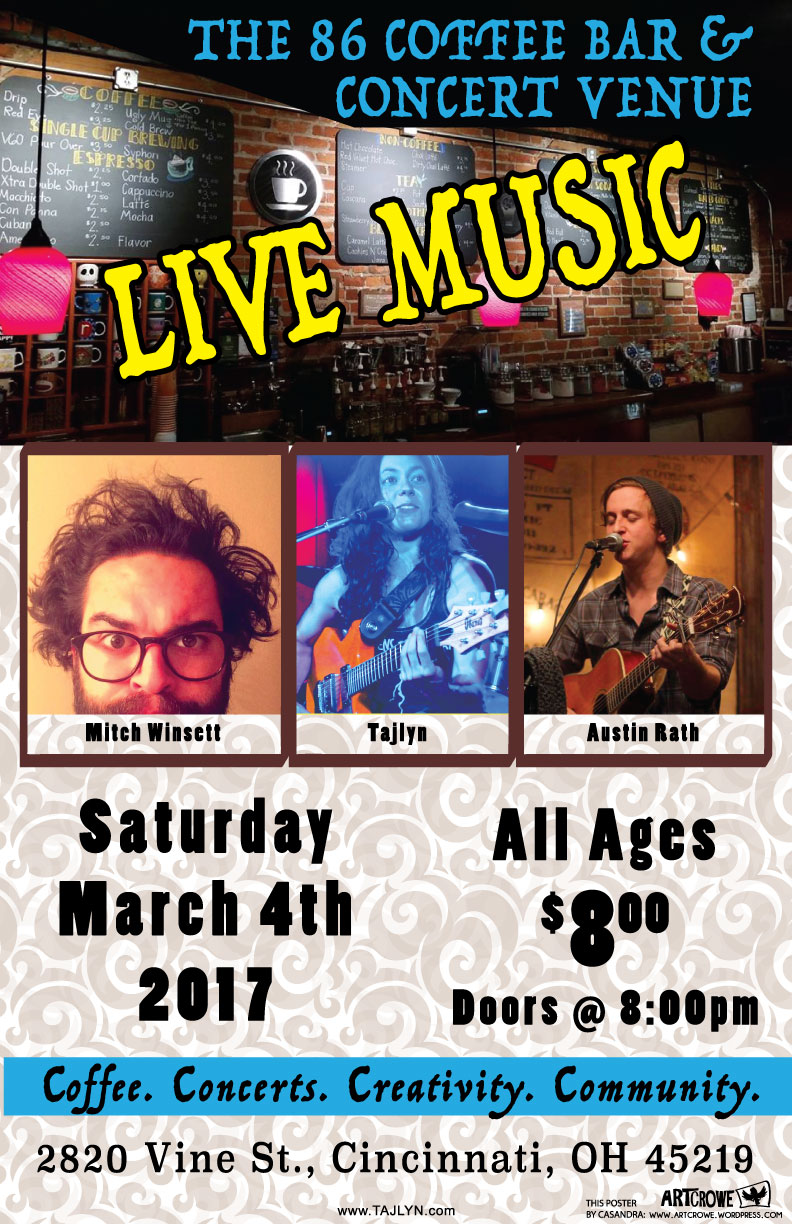 America's Got Talent Auditions for 2017...The Cleveland, OH Experience

Tajlyn AGT Video Audition December 10, 2016
Saturday, 10/22/2016: Common Grounds Coffee House. 343 E High St, Lexington, KY 40507. FREE SHOW. ALL AGES. TIME: 7:00pm
Saturday, 10/08/2016: Queen Bee Half Marathon. Race Starts At 7:30AM.....The course starts and ends at JACK Casino, where you'll enjoy free parking and the convenience of having your car within yards of the finish line! The course goes through some of Cincinnati's historic and scenic neighborhoods and along the way you'll be entertained by dozens of bands (Tajlyn is one of 'em!) and DJs and refreshment zones that will 'bee' unique to the event.
Saturday, 09/17/2016: Hudepohl 14K Brewery Run. Race Starts At 8:00AM.....The Hudepohl 14K/7K Brewery Run wraps up the Christian Moerlein Beer Series and at the same time kicks off Oktoberfest Zinzinnati, the largest Oktoberfest celebration outside of Munich. The Hudepohl 14K (named after the iconic Cincinnati-brewed beer) and shorter 7K start and end just south of the Moerlein Lager House along Cincinnati's riverfront.
Saturday, 09/10/2016: Common Grounds Coffee House. 343 E High St, Lexington, KY 40507. FREE SHOW. ALL AGES. TIME=TBA.
STAY UP TO DATE WITH THIS YEAR'S TOUR!
We will be posting Tour updates, photos & videos on the Tajlyn Facebook, YouTube & Twitter Pages!
Monday, 08/15/2016...UPDATE ON 8/14/2016 - We are running a little behind schedule and will not be able to make this open mic before the slots fill up. We will update you if that changes. See you in Memphis!: The Commador Grill. Writer's Night / Open Mic. 2613 West End Ave., Nashville, TN 37203.
ALL AGES. Open Mic From 10:00PM - 11:00PM. FREE!!!
Tuesday, 08/16/2016: P&H Cafe. 1532 Madison Ave., Memphis, TN..... More Info Soon!
Friday, 08/19/2016: The Local Pub & Patio. 2610 Guadalupe St., Austin, TX..... More Info Soon!
Sunday, 08/21/2016: Spinners Bar. 14106 N Insterstate 35 Frontage Rd., Austin, TX..... More Info Soon!
Monday, 08/22/2016: Tap-In Grill. Open Jam Night! 120 S. Main St., Grapevine, TX..... More Info Soon!
Wednesday, 08/24/2016: Betty's Grill. With Kristen Ford, Casey Jo Stohrer, The Dangerous Method. 407 49th Ave., Nashville, TN..... More Info Soon!
Saturday, 08/13/2016: The 86 Coffee Bar & Concert Venue. 2820 Vine St, Cincinnati, OH 45219. With Dark Harbor, Point 7 & SPRY. ALL AGES. 8:00PM. FREE!!!
Tuesday, 06/28/2016: Cosmic Charlie's. 388 Woodland Ave Lexington, KY..... More Info Soon!
Friday, 06/17/2016: Victory's Lounge. 543 S High St, Columbus, OH 43215. With Grayson Schick & Brooks Ritter. 21+. Show Starts At 9:30PM. FREE!!!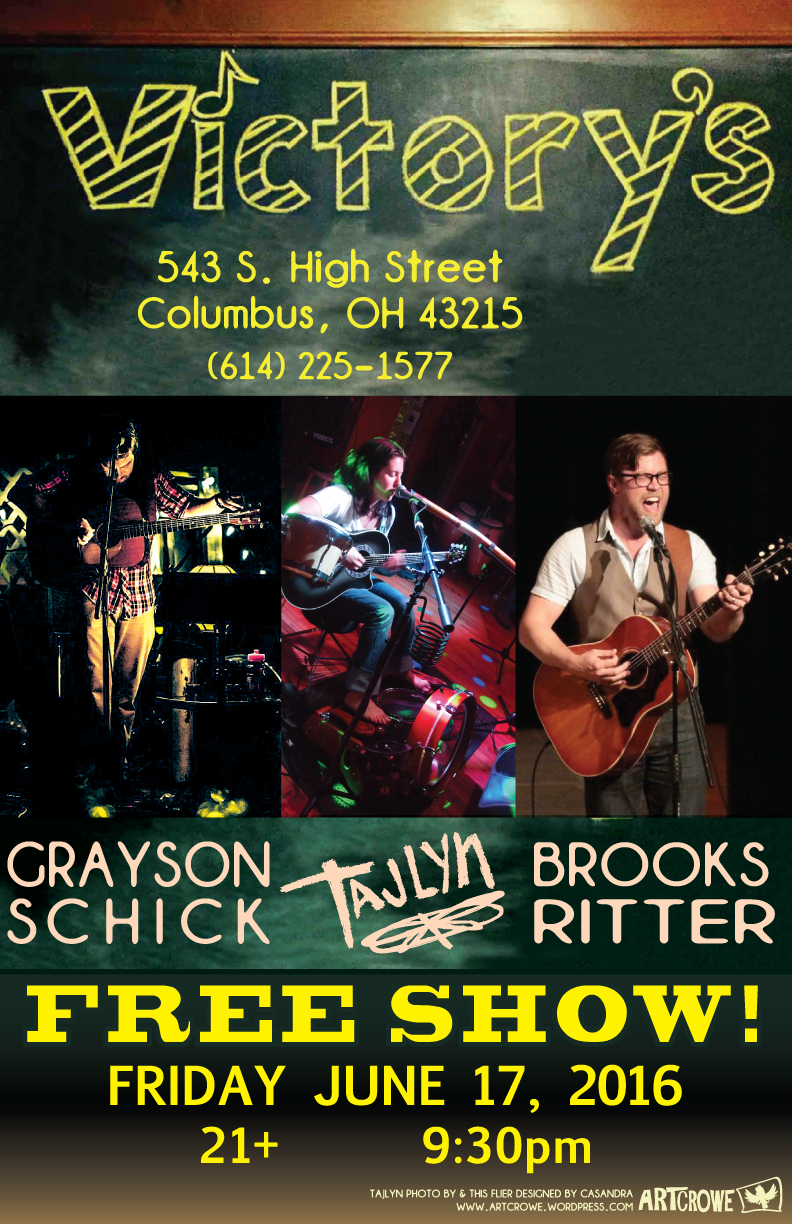 Friday, 05/20/2016: Stanley's Pub. 323 Stanley Ave, Cincinnati, OH 45226. Tajlyn, Vinylraptors & TBA. 21+. $5. 10:00 PM - 2:00AM
Sunday, 05/08/2016: Hello Everyone! Updating You Guys since it has been way too long since we've posted online. Gig Season has begun & Tajlyn does have shows currently booked and is in the process of booking more shows for this year while she continues to work on her new album White Dwarf. Tajlyn peformed her first gig of the season last Sunday at the Flying Pig Marathon in Cincinnati, OH. We greatly enjoyed that experience - an early morning gig supporting some bad ass athletes. We met some cool people and experienced one of the positive sides of Cincinnati. Stay tuned for footage from that gig!

With this past year's exhausting transistion in our lives, it has unfortuantely become a reality that we will not be able to travel to every place we planned on for this year. We are very sad to announced, that as of right now, we cannot make it out to California, Colorado, Nevada, Utah, Nebraska and Oregon as planned. California is also considered home to us and we greatly miss our family and friends out there so this is difficult for us to swallow and accept. We want you guys out in California to know that we miss you guys a lot and we will be back one day!
Please don't forget about us - we are not forgetting You.

However, we are able to discover and rock out new territories in Ohio, Kentucky, Tennessee, Texas and possibly their surrounding areas. We are also contimplating taking things up to the Northeast and checking out Pennsylvania, New York and some other areas up there. There is also the possibillity of checking out Michigan & Indiana. As this year's tour continues to form, we are becoming more and more excited to meet some new people and Tajlyn performing for them; hopefully making some new friends and finding new areas we can also consider home. We look forward to meeting you!

While our online presence has been scarce lately, we want you to know that we have been making much progress offline and are still working towards our goals for Tajlyn. You guys are a big part of what helps drive Tajlyn to keep this musical, traveling journey going and we appreciate it greatly. Please check out the upcoming shows below............... See you guys soon!
Sunday, 05/01/2016: Flying Pig Marathon @ Mile 23. Le Blonde Recreational Center on Riverside Ave, Cincinnati, OH. Tajlyn Motives Thousands Of Runners & Walkers With Her Tunes! All Ages. Free To Watch. 7:45 AM - 1:30PM